Return to oils.
Hello!
I am back, hopefully for longer this time. It's really been a while. I just finished my first oil painting in ~4 years. Has it really been that long? I think the last time I remember painting in oil was for an ex-boyfriend.
Anyway, I'm here to update with my latest work, which I'm obsessively proud of because, well, as I mentioned earlier, it's been a while since I touched oils and I'm actually pretty happy with how the painting came out. In the past it was easy for me to look down on my own work because it didn't look exactly like what I was trying to paint/draw. I like to think I've matured a bit and am starting to accept that I have a different style and my work will not always look like the original (whether it be a photograph, another person's work, etc.).
I decided to paint a Magic: The Gathering card for my boyfriend. He loves the game and keeps trying to get me into the game...I am reluctant to play simply because I know how much money and time can disappear with it. Anyway, as a way to show my appreciation for his love for the game (and to motivate myself to paint again), I chose to paint one of the mountain cards.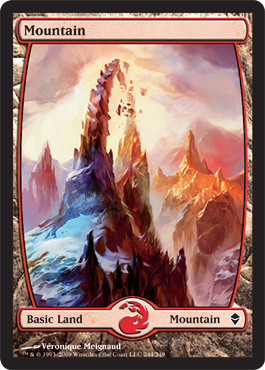 Source of inspiration
His brother suggested a couple options to me, and this was one of them. After passing the options around to some of my friends, the overwhelming majority was this one. Easy part done!
I started right around Thanksgiving since I intended this to be his Christmas present. I sat down and sketched it out on a 16x20" canvas. I knew I needed more than one layer of paint for the whole painting so I painted out the rough colors for the sky without thinking too hard about the details.
First layer for the sky.
Next step was the mountains in the background. Again, first layer, so I didn't care too much about getting this super accurate.
First layer for the mountains in the background.
Took me a couple more hours to finish the entire first layer. My main goal here was to try to get the colors roughly right.
First layer of the whole painting done.
Now I had to do the second layer, so I started with the sky. I then worked on the background mountains one by one before focusing on the one in the front.
Second layer of the sky done.
Worked on the second layer of the mountain on the left.
Finished the second layer of the mountains on the right.
The last part of the painting took me quite a while to actually get started because I was so intimidated by the details in the mountain in the foreground. It took me a month between steps to actually sit down and focus on finishing the painting. But finally my friend (who is a professional artist!) told me I just had to do the darks in the painting and it would turn out. So I took her advice and focused on the shadows first and then worked my way up the mountain.
Done!
Total time: ~15 hours, give or take. In reality it took about 3 months end to end because I got really intimidated by the amount of detail in the original picture. I'm actually very proud of this since I've learned a lot of things about myself when doing this painting and I'm happy with how it turned out. I learned what I like abot painting (colors and shadows) and what I don't like about painting (details). And no, it doesn't look exactly like the original but I think this caters more to what my style actually is. I wouldn't say I've settled on a style yet, but this feels closer to me than others I've done before.